DTA Advocates for Better Digital Therapeutics Access and Coverage  
DTx industry members held 50 meetings with congressional representatives to gain support for critical legislation at event in Washington, DC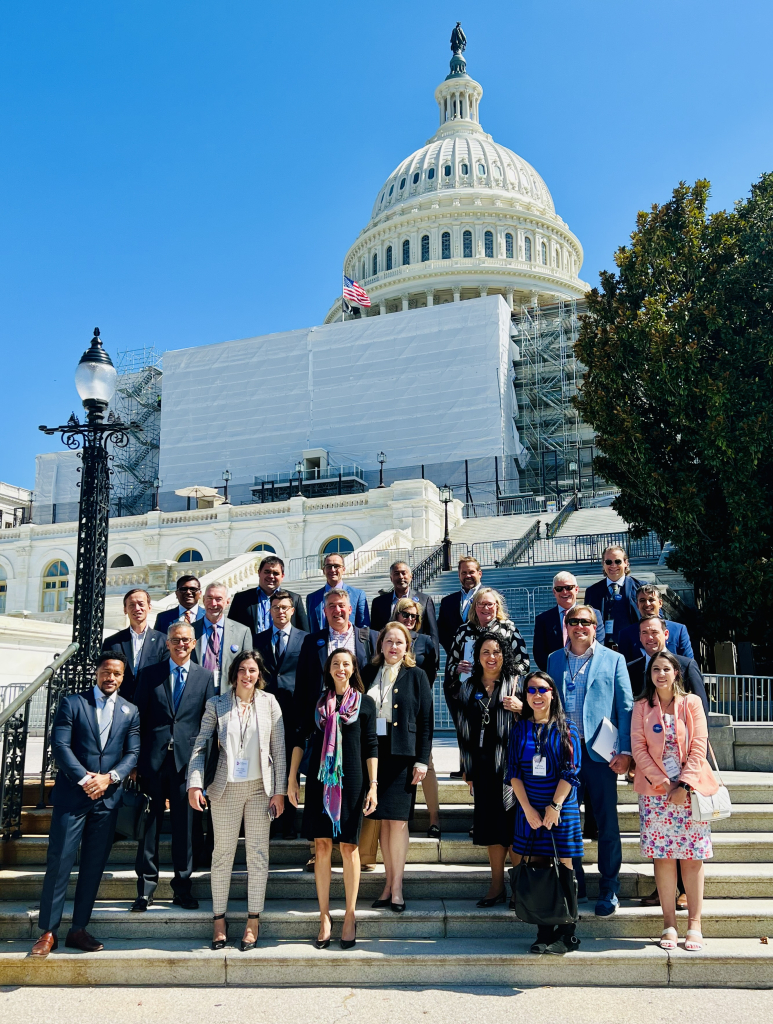 September 26, 2022 – Arlington, VA– This past week, the Digital Therapeutics Alliance (DTA) held a Capitol Hill Advocacy Event in Washington, DC for member companies and allied partners to discuss policy and legislative opportunities to provide better access and coverage for digital therapeutics (DTx) and gain support for H.R. 7051/ S. 3791 the "Access to Prescription Digital Therapeutics Act of 2022". 
DTA staff and member organization participants met with representatives from both the U.S. House of Representatives and Senate leadership, including senior advisors from the offices of Speaker of the House Nancy Pelosi (D-CA) and Senate Minority  Leader Mitch McConnell (R-KY) to discuss the value of digital therapeutics and the opportunities to improve clinical and economic outcomes with expanded access to DTx products. Advocating for expanded adoption, coverage, and access to clinically validated digital therapeutics for the benefit of patient care, DTA members also met with key committee representatives from Senate Finance, House Ways and Means, and House Energy and Commerce. 
In total, over the course of the two-day event, DTx industry leaders met with staff from over 25 Senate and 25 House offices, representing 29 states, as well as the District of Columbia, to educate lawmakers on digital therapeutics and urge support for passage of the "Access to Prescription Digital Therapeutics Act". This bipartisan legislation was introduced in March 2022 with five sponsors. DTA kicked off efforts to advance this important piece of legislation during an advocacy event in Washington, DC shortly after and since then, the bill has steadily gained support, with co-sponsors in the House and Senate now numbering more than 20. If passed, the legislation would establish benefit categories for a subset of digital therapeutics and would provide a much needed access pathway for the over 160 million people covered by Medicare, Medicaid, and other publicly-funded programs.
"The Access to Prescription Digital Therapeutics Act is a critical piece of legislation to provide equitable access to quality medical treatments," said Andy Molnar, DTA CEO. "It's been incredible to be a part of this community driving action on the Hill and I am proud of the collective work we have done to gain support for this much needed legislation."
DTA is looking forward to continuing to meet with other Members of Congress over the coming weeks to secure more support for this legislation in addition to expanding other efforts to establish clearer pathways for DTx products to improve patient outcomes. Connect with us if you would like to be involved.
Special thanks go to event sponsors Otsuka Pharmaceutical and Eversana, and DTA Resource Partners, Foley Hoag and Susan Stoner Zook, Mason Street Consulting. 
About Digital Therapeutics Alliance
The Digital Therapeutics Alliance (DTA) is a global non-profit trade association of industry leaders and stakeholders with the mission of broadening the understanding, adoption, and integration of digital therapeutics into healthcare. DTA works to enable expanded access to high quality, evidence-based digital therapeutics for patients, clinicians, and payors to improve clinical and health economic outcomes. To learn more, please visit: www.dtxalliance.org or follow us on LinkedIn and Twitter.