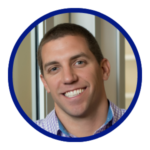 Eddie Martucci, PhD
Chief Executive Officer, Akili Interactive
Eddie is a co-founder of Akili Interactive Labs, a digital medicine company creating treatments and assessments for cognitive disorders that are delivered through immersive, high quality video game mechanics. As part of PureTech Health, Eddie previously co-founded two other health-focused start-ups, and helped launch their digital health initiative. He was previously a Kauffman Entrepreneur Fellow, a program sponsored by the Kauffman Foundation of Kansas City, MO, focused on healthcare entrepreneurship. Prior to that, he completed his graduate work at Yale University in the Departments of Pharmacology and Molecular Biophysics & Biochemistry, focusing on structure-based drug design. Eddie received his B.S. in Biochemistry from Providence College, and his M.Phil. and Ph.D. from Yale University.
Eddie frequently serves on discussion panels for industry and academic events related to healthcare innovation, has appeared in media including CNN's Vital Signs with Sanjay Gupta, and Akili has received recognition including the 2014 Future of Health Technology product award, 2015 50-on-Fire Boston, and the #1 health company in Entrepreneur magazine's 100 Brilliant Companies of 2016.