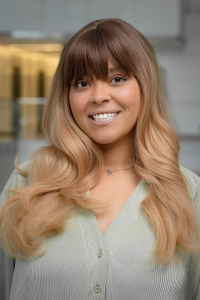 Keoana E. Arnett works as the Administrative Assistant at Digital Therapeutics Alliance and assists with various aspects of administrative and operational work. With office management experience in fields such as construction and education, she is equipped to deal with fast paced and ever-changing work environments, while maintaining a focus on organization and prioritization. 
Through her work, Keoana strives to assist in creating a future with more access to healthcare, education, and housing. As a NY native she is passionate about doing work that betters the lives of those around her and brings that passion to helping advance DTA's mission.
Keoana loves to spend time outdoors with her dogs. When at home, she can usually be found in the kitchen trying out some new recipes or serving up an old favorite for some friends. And can't forget the homemade dog treats!