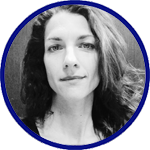 Jessica Shull, MSc, MA
Hospital Bellvitge & University of Barcelona, Digital Health

Jessica brings strong analytical and technical skills to her work, with significant expertise in patient-focused product evolution. She worked on health development and technology teams at SimQuest LLC, a virtual surgery company, the World Health Organization, and the World Bank, and served as a mentor for health start-ups at the Mobile World Capital—including evaluation models within payer systems.
Currently, Jessica is managing health data projects at Hospital Bellvitge in Barcelona and completing a PhD in BioMedicine, using Big Data to find early indicators of rare lung disease. Additional work includes using digital therapeutics for prevention and management of diabetes.
Jessica holds a MSc from the Medical College of Georgia and an MA in International Studies at the University of Trento, where she focused on rebuilding the healthcare workforce in conflict zones (Rwanda and Kosovo) through digital technology.